Louisville Pergola Experts!
Cincinnati Pergola is your Louisville Pergola Expert!
We are proud to announce that we have received the Louisville Pergola territory for Struxure Outdoor pergola systems! We have extensive experience with both design and installation for both commercial and residential adjustable louvered roof systems.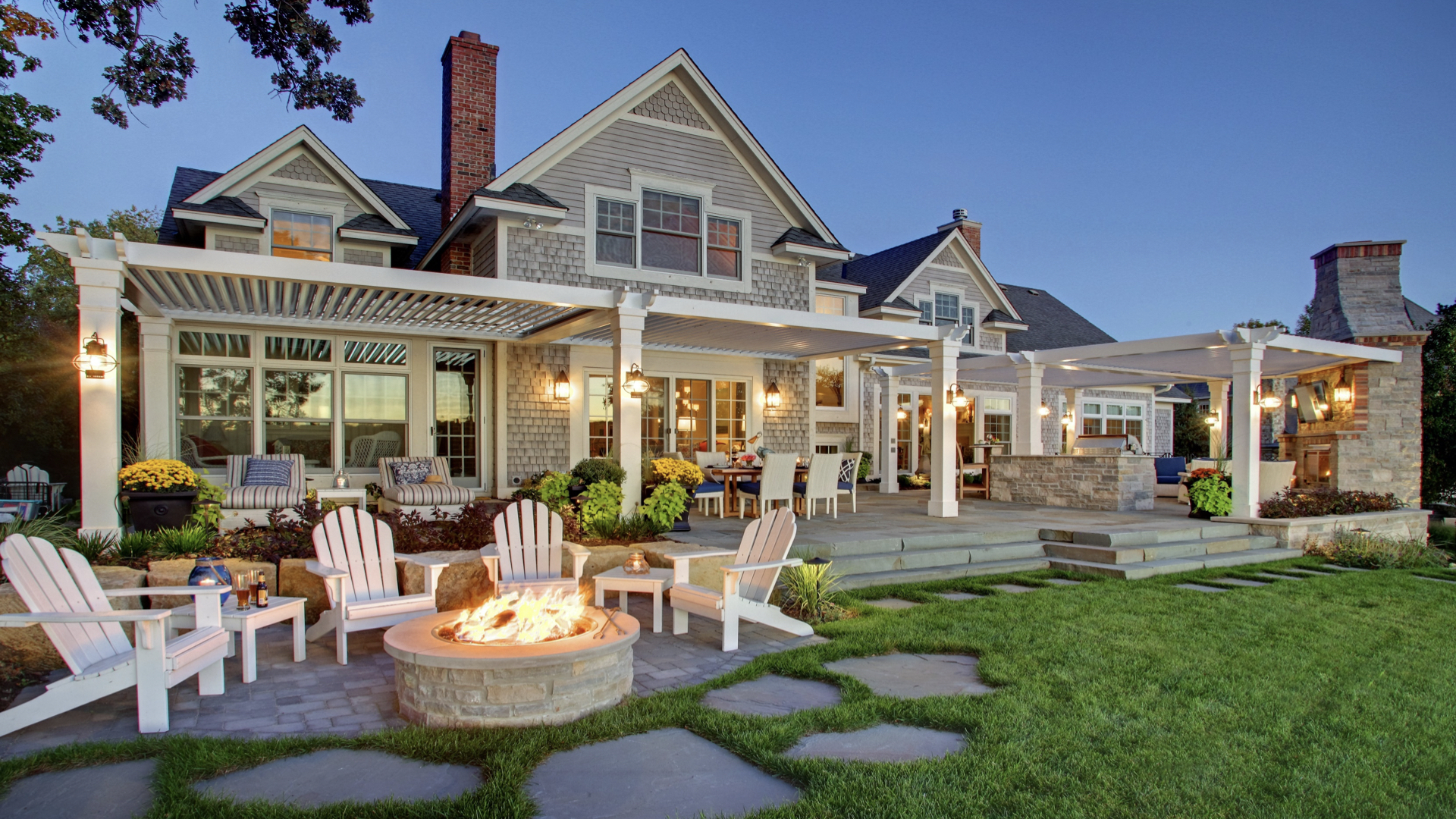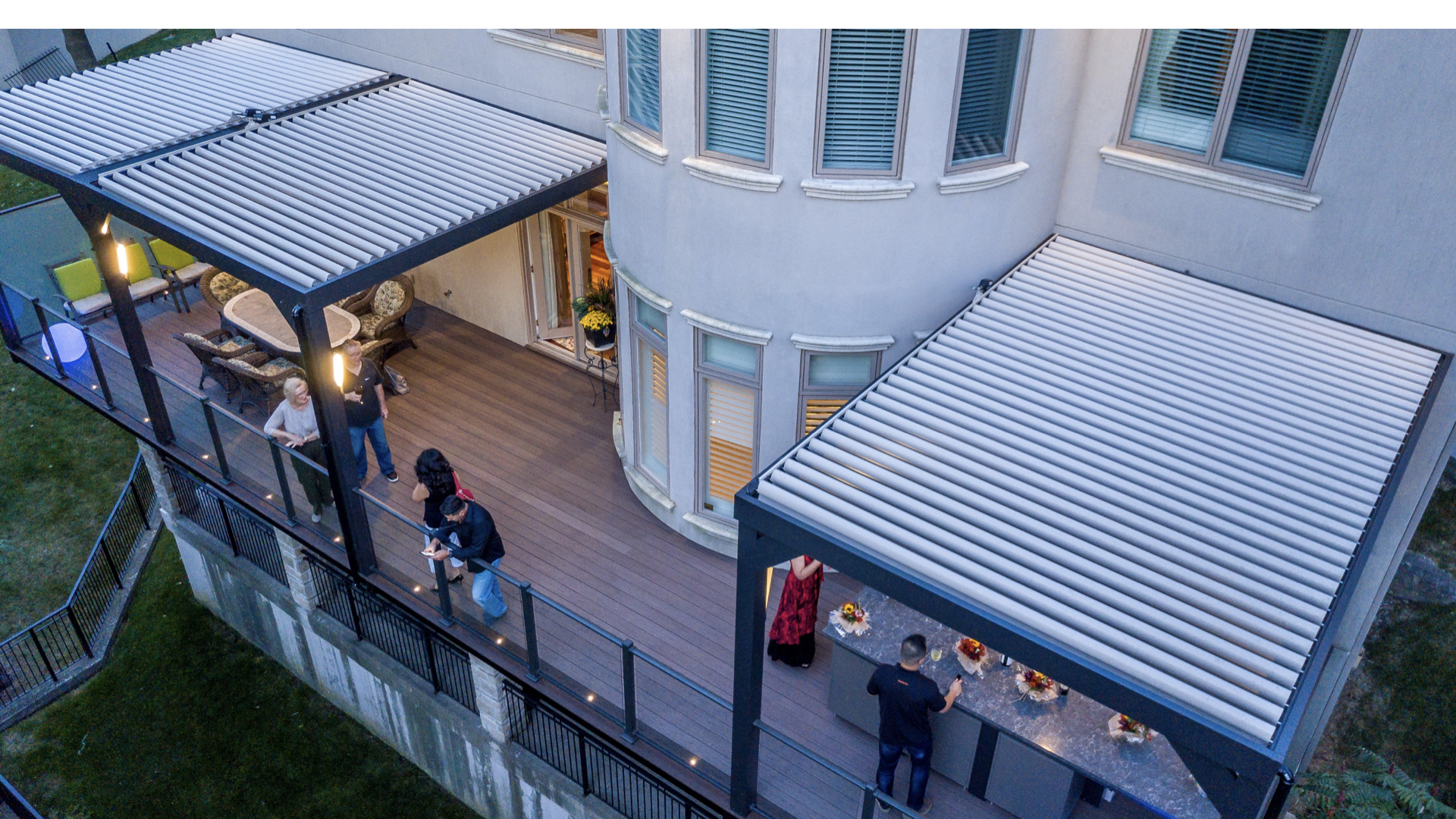 Imagine, transforming your backyard into an outdoor family room that was convertible! With the touch of a button, the louvers open or close to you liking, making the outdoor space useable year round. 
State of the art "smart louver" technology pivots over 140 degrees to control sun, shade and wet weather with the touch of a button or phone.
Use our smart phone app to adjust your pergola for as much (or as little) sunlight as you want, fully integrated with Alexa and Google My home voice controls also.
We are your specialists when it comes to the Louisville pergola business! 
Why settle for less than the best? Call us today 513-519-1800
Why let rain ruin the party?
Our integrated rain sensor automatically closes your pergola louvers when rain begins to fall, so your guests, food and furniture always stay comfortable and dry.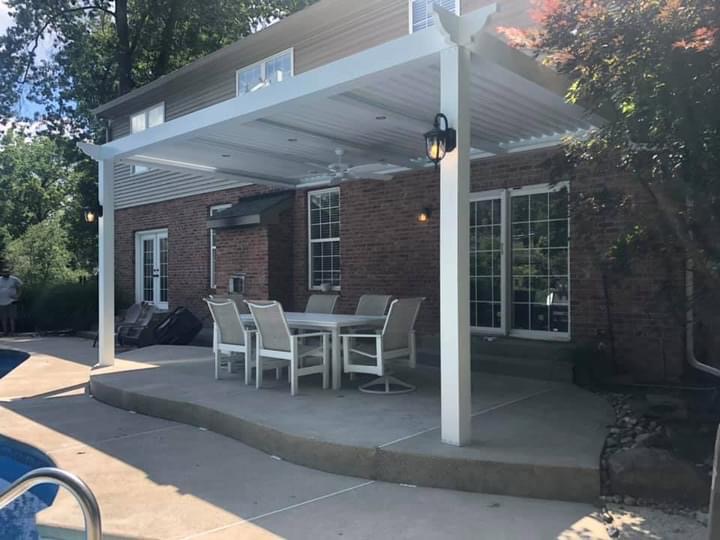 From simple to sublime, Louisville Pergola can be yours!
Making outdoor spaces more attractive and useable, during most any weather, is what we do best!
The Struxure pergola system is powder coated aluminum and cannot rust and is resistant to deterioration. The system is virtually maintenance-free. The system is made of aircraft grade extruded aluminum, making them extremely sturdy and an asset that increases the value of your home and usability! Struxure is engineered to withstand hurricane force winds and heavy snow loads.  It is perfect for any environment in the Ohio River Valley.
In the Louisville Pergola market, there is one clear choice and that's Cincinnati Pergola LLC. taking your existing space and transforming it into something spectacular is a common occurrence with us. Taking a simple outdoor pool deck, designing and installing a Struxure Outdoor pergola in it, takes it from just being a summer space to at least a three season space. With the additional options of retractable screens from Fenetex, radiant heaters, lights and ceiling fans, you have just added beautiful, comfortable space, that can be enjoyed nearly year round, even when it's cold outside. 
Call us to schedule a design app[ointment to see how we can transform your outdoor space! 513-519-1800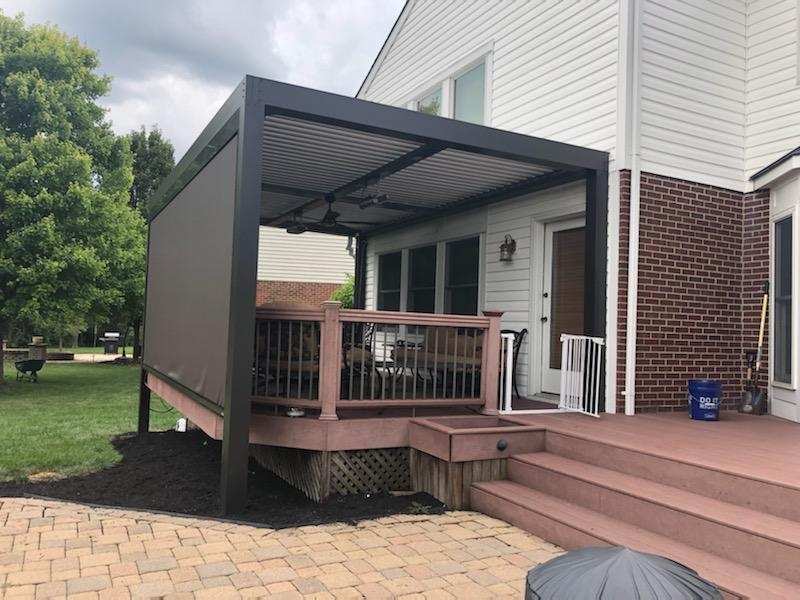 Why choose a Struxure Pergola System in the Louisville Pergola market? Here's why!
Patio Roof Covers

Sun

No sun, dark lighting and colder

Shade


Total overhead coverage at all times

Shelter


Total overhead coverage at all times

Artistry


Boring and stodgy

Retractable Awnings

Sun


No sun, dark lighting and colder.

Shade


Total shade coverage when extended.

Shelter


None except light rain. Must retract in storm.

Artistry


Depends on the design, only seen when extended.
Conventional Pergolas

Sun

Plenty of sun (often too much).


Shade

Only for a few hours depending on sun's angle.


Shelter

No rain protection as the slats are fixed.

Artistry


Beautiful and refined.




The Struxure Pergola

Sun

Fully adjustable, perfect shade amount at all times.


Shade


Fully adjustable, perfect sun exposure at all times.


Shelter

Auto closes in rain (with Optional Rain Sensor). Water tight gutters.


Artistry


Elegant, beautiful and refined. Customizable
The choice is clear in the Louisville Pergola business, Struxure Outdoor and Cincinnati Pergola LLC are the leaders, Call us today! 513-519-1800
Are you looking for a shade solution for your Louisville business?
We offer shade, sun and weather solutions for restaurants, resorts, hotels, country clubs, distilleries, golf courses and wineries. If you are looking to expand your outdoor seating, with defined ROI, let us show you how. 
Take existing outdoor areas that are limited by the "perfect" weather, and turn them in to 4 season seating that can return your initial investment quickly. Outdoor seating is the preferred location for the current social situation and if you don't have an outdoor seating area that is protected from the elements, you are missing out on vital customers and the resulting revenue and profit. 
We can help identify what the return can actually be for your commercial patio space. Whether a small, 10'x10' addition, or 60'x60' or anything that your imagination can dream of, we can design a space that simply makes you money! There has never been a better time to invest in outdoor seating in the entertainment business. Your customers want a comfortable, beautiful and inviting space to spend their time and money enjoying. You can be one step above your completion. Let one of our commercial design specialists sit down and show you how we can add dollars to your bottom line! Let us show you the real life case studies of the rapid return on investment with a Struxure Outdoor adjustable louvered roof in your business!
Follow this link for a brochure of beautiful Struxure projects.