Cincinnati Retractable Screen Company!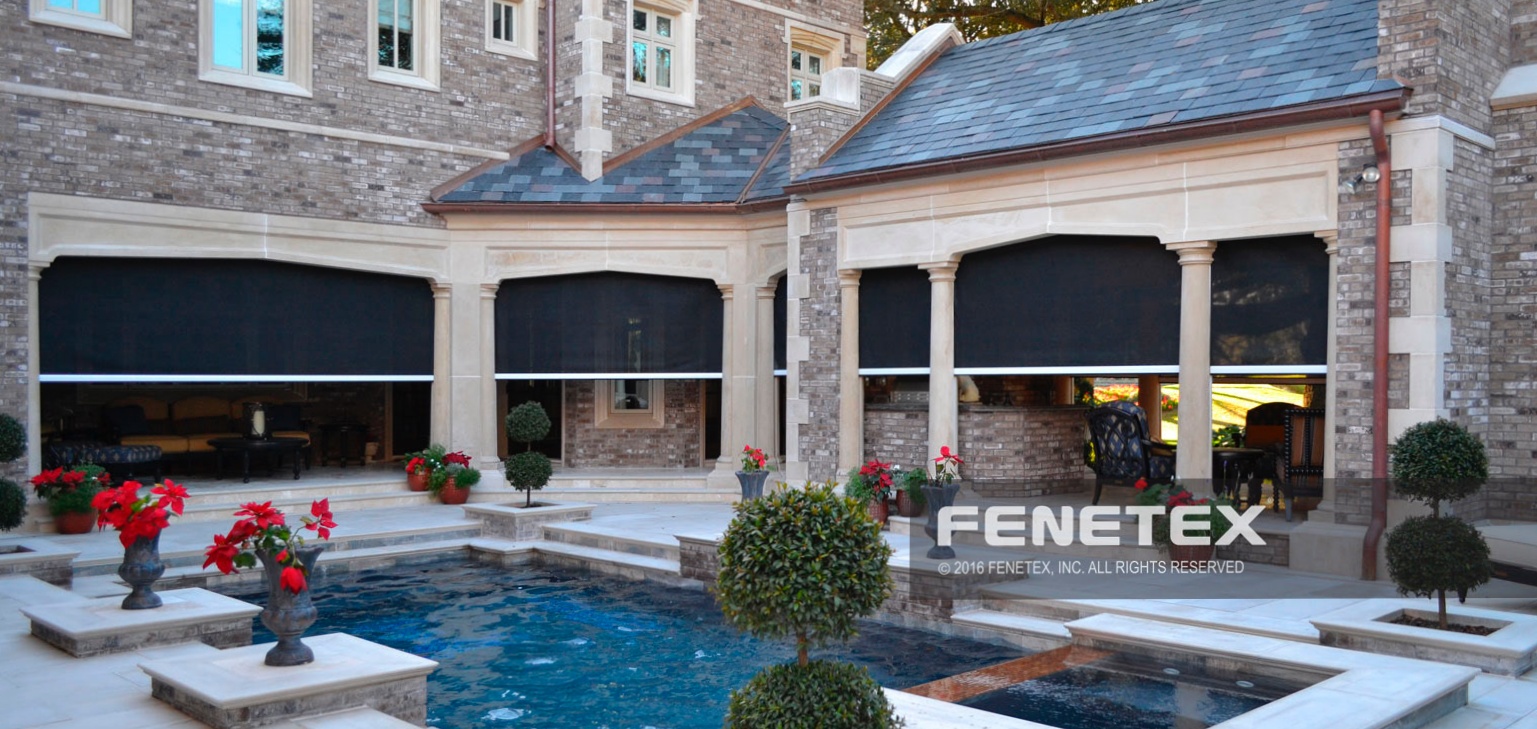 We are your Cincinnati Retractable Screen Company! As an authorized Fenetex dealer, we have significant experience designing and installing retractable screens in all of our service areas. When you are looking to add shade screens, insect screens or even solid acrylic screens, we can help. Commercial or residential, we have installed in virtually every type of home, office, restaurant, brewery, country club, hotel or resort that you can imagine!
We offer industry-leading retractable screens for commercial and residential customers for insect screens, shade screens and clear vinyl screens.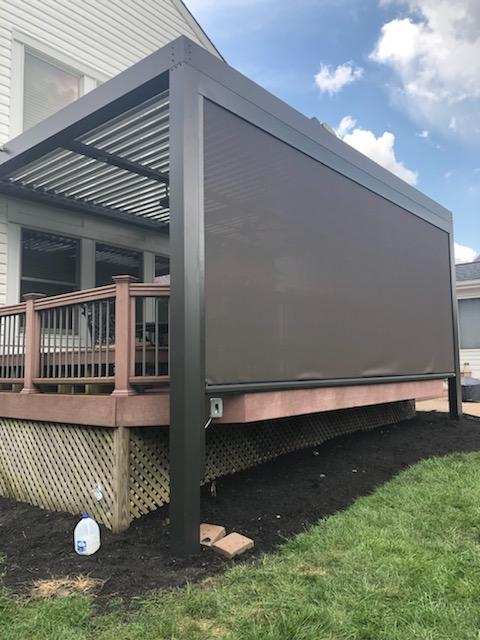 Dependability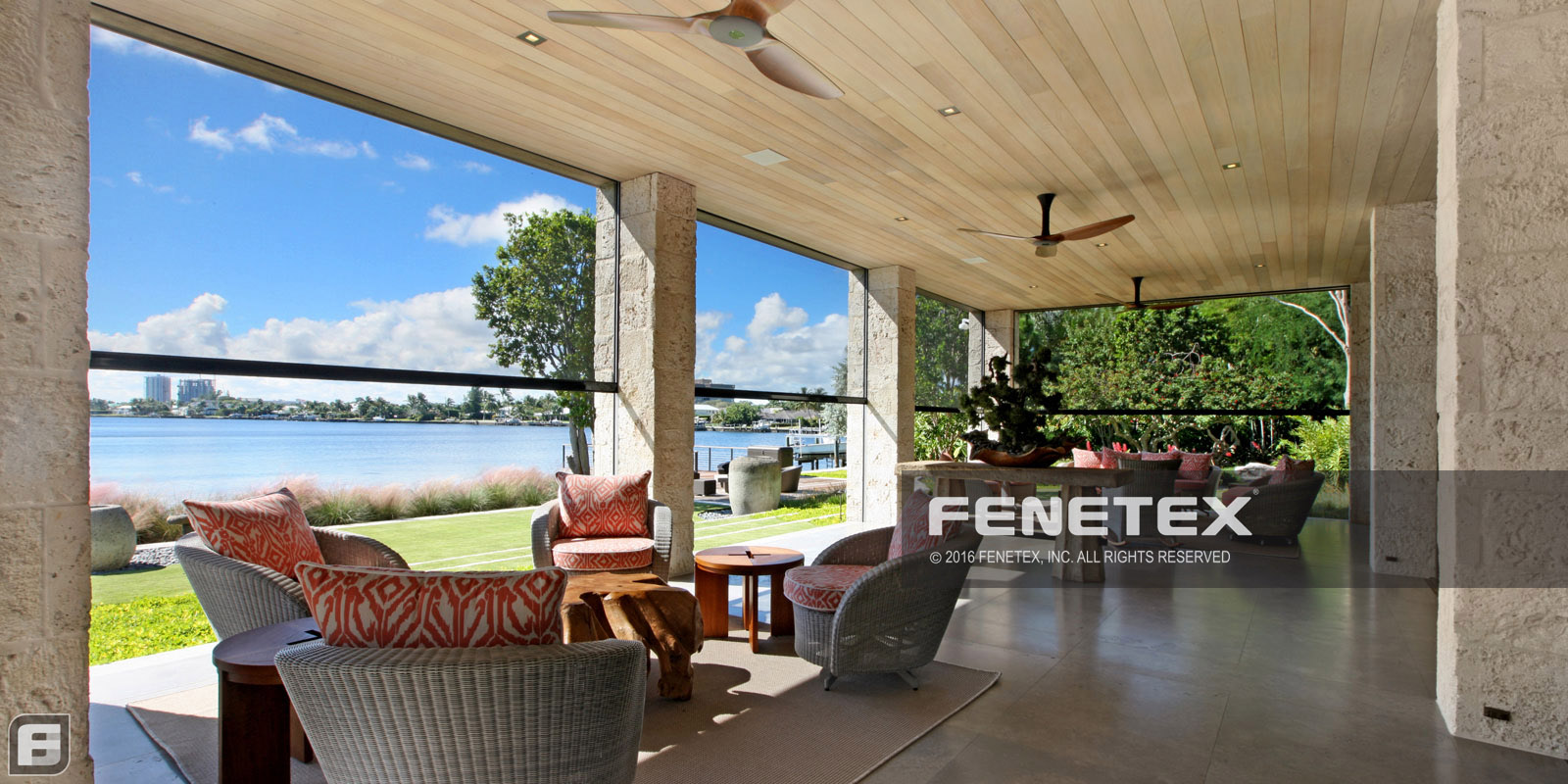 Fenetex screens have the lowest occurrence of service calls of any retractable screen currently available. Several elements come together to make this happen. As the dealer we train our designers and installers on how to use the right tools and the right steps to install the screens; we build a screen that is precisely manufactured to the specifications provided so the screens fit as expected; and we design and manufacture our screens and components from the perspective of what can we do to make them better rather than what can we do to make them cheaper. 
Cincinnati Retractable Screen Made in the USA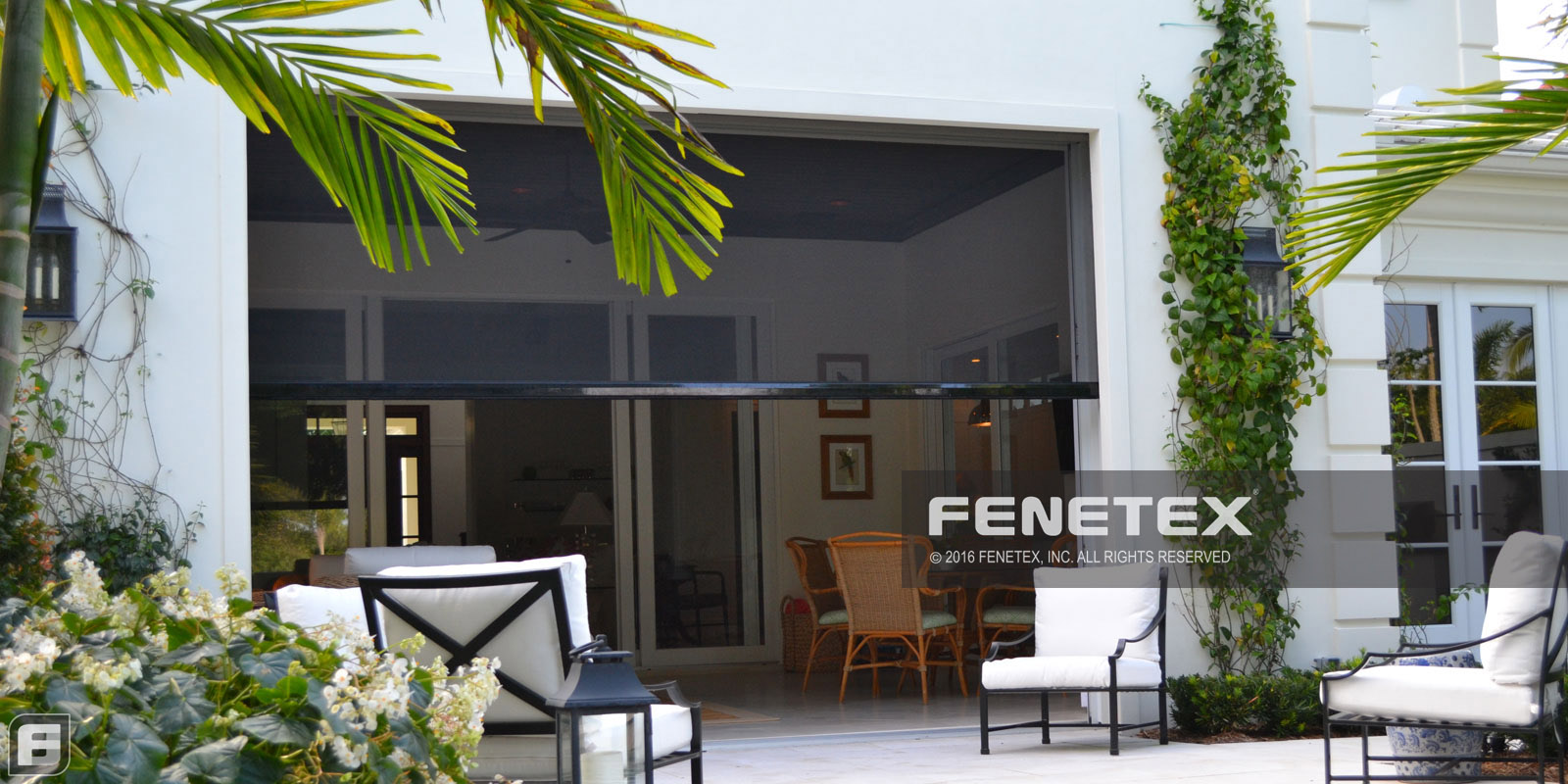 In the Cincinnati retractable screen business, Fenetex screens are manufactured in the USA, as you order them in Jacksonville Florida. The largest percentage of the materials (aluminum and most fabrics) come from supply partners that are manufacturing their products in the United States.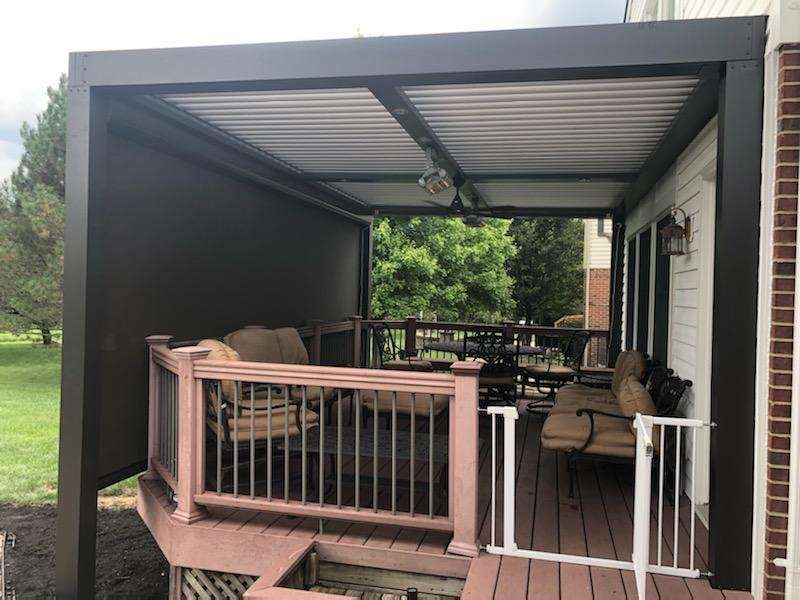 Manual or Motorized Retractable Screens is our business!


MOTORIZED RETRACTABLE SCREENS
For most applications we will recommend motorized operation. There is a cost difference, but the convenience and operational ease will dramatically impact your using the screens as intended. We utilize a Fenetex brand motor with corresponding remote control, giving you the ability to raise and lower your screens with precise accuracy. 
MANUALLY OPERATED SCREENS
Manually operated screens are designed to be used where electricity is not available, or where the screens will be used infrequently. It is not cost effective over the life of the screen to use manual gears on a regular basis given the time and labor effort required to cycle several screens up and down and the high potential for operator caused damage. Further, the cranking mechanism in a manually operated screen has no settable limits. This means the screens bottom bar can be rolled up too high causing it to jam in the screen housing if the stops have been removed, the screen can be let down too far such that it appears unsightly, and the screen can be rolled backwards on the reel which will create several issues that can jam the screen, cause the screen to come out of the tracks, and/or damage the screen. Operator errors can quickly create a circumstance that requires costly service and repairs, these are not covered by any warranty. Purchasers are hereby made aware that manually operated screens require more operator awareness, labor effort, and training than motorized screens. Please consider using motorized screens if you or your customer is not likely to closely follow the operating instructions.
INSECT SCREENS
Your outdoor space is sacred and shouldn't be ruined by an invasion of insidious insects. Fenetex Retractable Insect Screens fortify your outdoor space and make it impenetrable to the most determined insects. These screens retract on insect-free days, but should insects arrive, they won't get far. You take pride in your outdoor space, now take it back from insects with Fenetex Retractable Insect Screens.

In addition to residential and commercial patios, Fenetex Retractable Insect Screens provide excellent insect protection for garage door openings, cabanas, and outdoor kitchens. No matter where you are and no matter how they approach, you're protected from insects.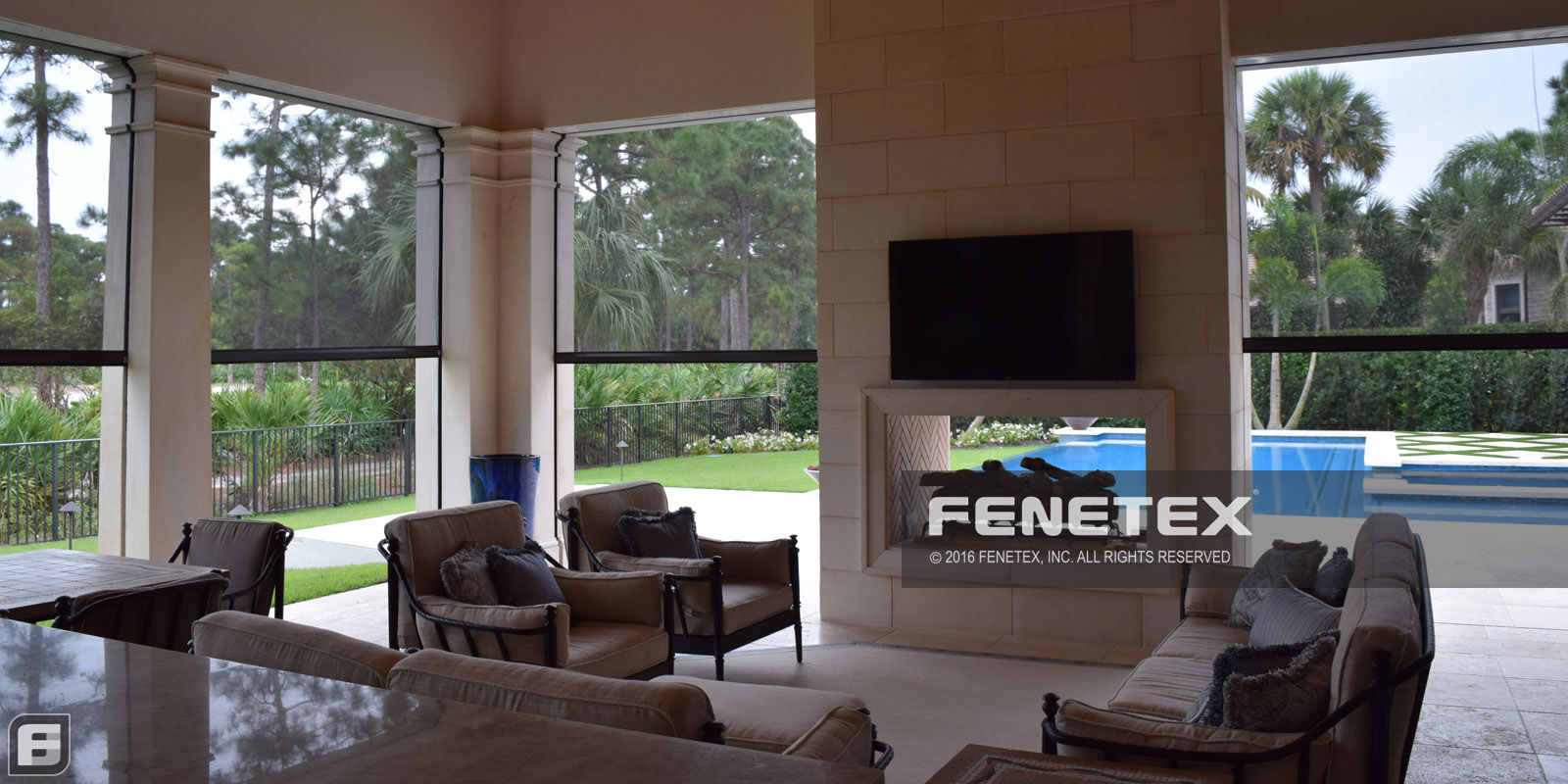 RETRACTABLE SHADES
There are few things more uncomfortable than being at the mercy of the sun's harsh, penetrating glare. With Fenetex Retractable Shade Screens, you can turn the tables and make sure each beautiful day is also a comfortable day. These screens block 90% of the penetrating sunlight while also making a substantial dent in your energy costs. With Fenetex Retractable Shades, the sun is at your mercy any time of day.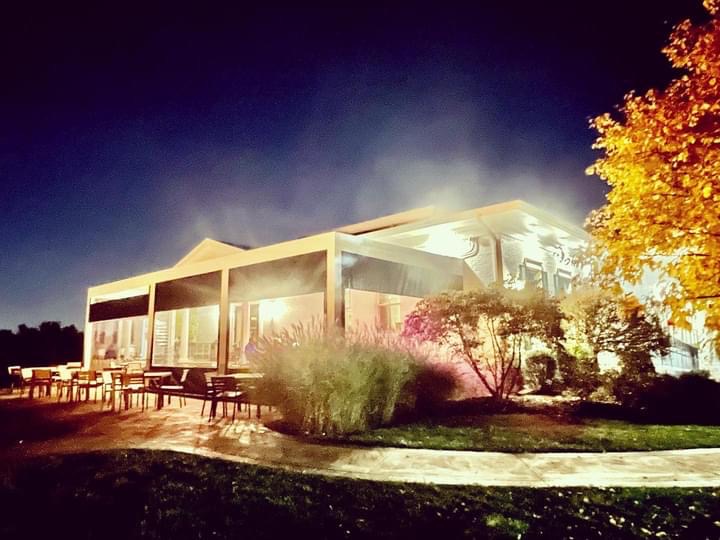 CLEAR WEATHER CURTAINS
A beautiful outdoor space can be a tremendous asset for a restaurant, and that shouldn't change because of high winds or fluctuating temperatures. With Fenetex Clear Vinyl Weather Screens, your customers are protected so that their dining experience remains as comfortable as you intended it. You've worked hard to cultivate an atmosphere and ambiance, now protect it with this all-weather solution of clear weather curtains. Let our clear acrylic retractable screens make your space 4 season usable! 
DUAL SCREEN PROTECTION
You may not be able to control the environment, but with Fenetex Dual Screens, you'll have total control over your environment. Our exclusive, custom-engineered track system combines two Fenetex Retractable Screens to combat any external challenge you face. Pairing any two screens including insect, shade or clear acrylic materials that renders your outdoor space impervious to any variable regardless of the season.
INSECT + SHADE
This Dual Screen System allows you to fend off any intrusive insect without breaking a sweat. These screens work in tandem to block the sun and maximize airflow so you get the most enjoyment from your outdoor space.
INSECT + CLEAR WEATHER CURTAINS
A great combination for the harshest of seasons, both screens work together protect any outdoor space. When the winter winds are howling, drop the Clear Weather Curtains, turn up the heat, and relax. When the insects are invading in the summer, preserve the sanctity of your outdoor space by dropping our Insect Screen.
THE PERFECT FIT
Every screen is custom manufactured to fit precisely within the architectural space it occupies to resist wind load. The Fenetex Dual Screen System allows you to have total control over your outdoor environment regardless of any changes in the environment outside.
OUT OF SIGHT
With the Fenetex system you don't have to sacrifice your patio's charm to protect it. Our screens blend seamlessly with your patio, ready to deploy at a moment's notice. In some cases such as new construction, the system can even be designed to disappear completely from sight.
TOTAL CONTROL
All of our retractable screens can be motorized to deploy at the touch of a button. For the ultimate peace of mind, they can be paired with smart home automation systems that can be operated and monitored from anywhere in the world.
Cincinnati Retractable Screen Smart Phone App
We can offer a smart phone application, that gives you access to raise and lower your Cincinnati Retractable Screen from anywhere you have a data connection on your phone. Let us show you how!
Call us today! 513-519-1800