Louisville Struxure Pergola Dealer!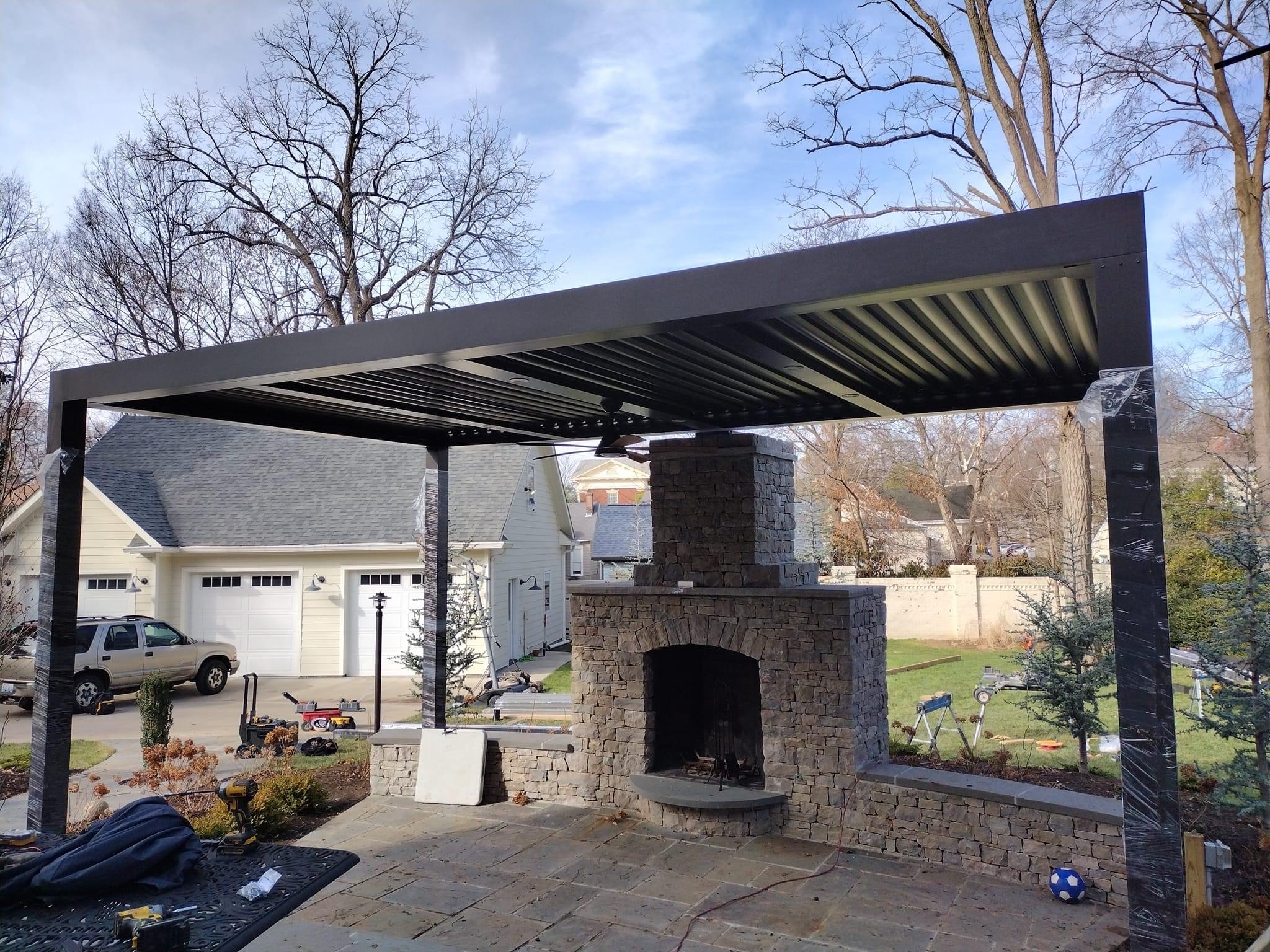 The Louisville Struxure Pergola is a motorized or manual louvered roof covering for your Outdoor Living Space! Overlapping louvers create a water tight, sun shading roof when you want or need it, then, as with a convertible car, open when the weather is appealing! With the touch of a button, the system can open and close or anywhere in between! 
Having an outdoor space that is convertible means that you can actually plan outdoor entertaining without the worry that weather will ruin your plans. 
This system was free standing and included the integration of an upright fireplace. The unit still has the protective plastic on the posts, but acts an example of the flexibility of the installation location and desired purpose.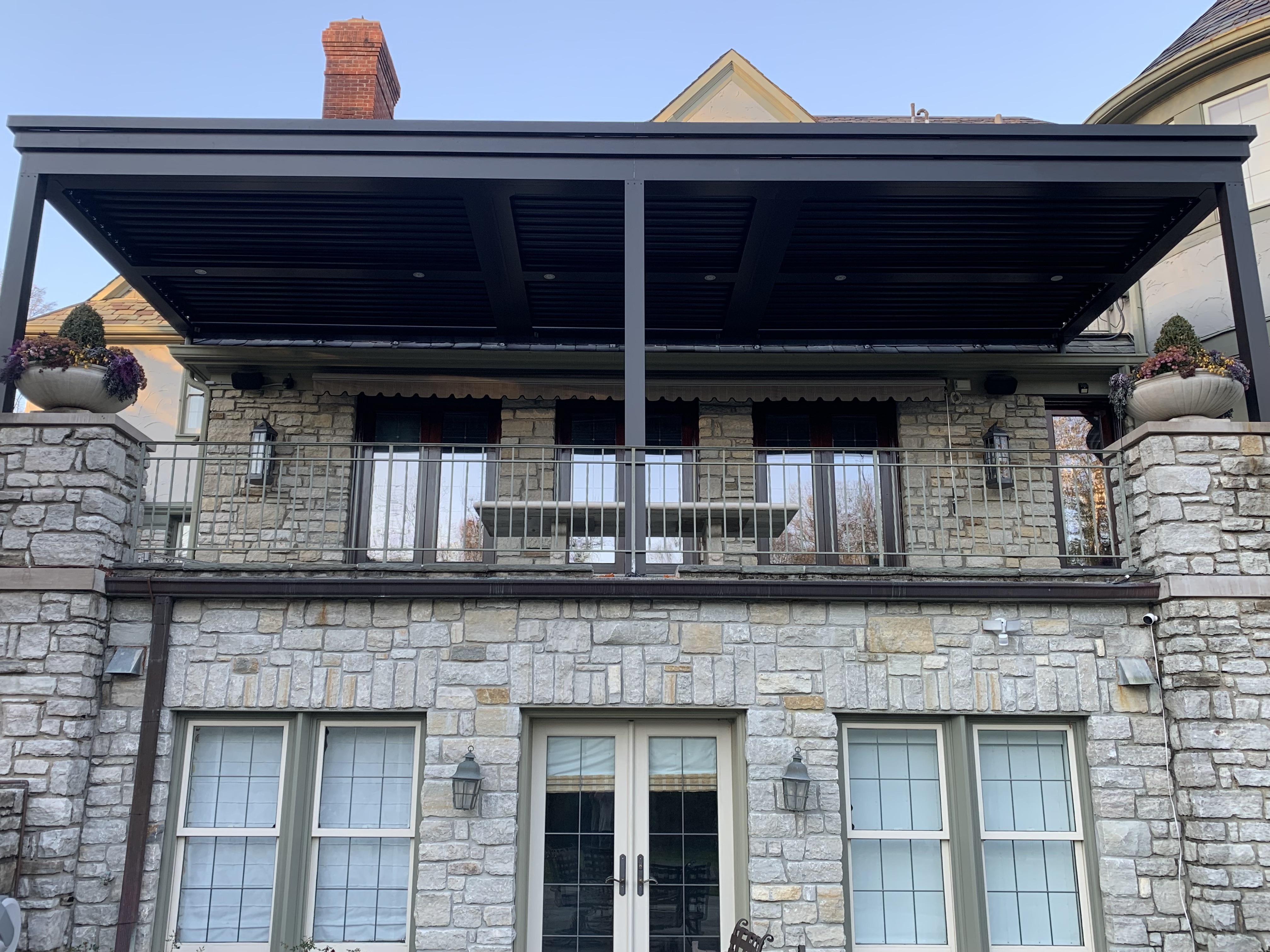 Outdoor Living spaces that are used more than they ever could have been without a Louisville Struxure Pergola System. Comfortable, inviting, beautiful and durable! Made from extruded aluminum and custom fitted to your exact space, powder coated paint that is durable and long lasted, will not fade or caulk over time are just a few of the benefits of our system! Think of it this way, with the touch of a button, your system opens to let cool morning sunshine in the space. You enjoy a beverage of choice, relaxing before your day gets started. When the day is complete, imagine coming home to a patio space that is shaded and cool, during the hottest part of the day, because the louvers have been in the closed position, protecting the space from direct sunlight and the heat it creates! 
Dinner parties become less uncertain when a Louisville Struxure Pergola system is in place!
Have you ever planned to enjoy you patio space and suddenly realize the weather isn't going to cooperate with your plans? You aren't alone! So picture it, you have spent hours planning and prepping the outdoor space, dinning tables are covered with tablecloths, plates and dinnerware is in place and all of the sudden, you see dark clouds have formed in the western sky! Before you Louisville Struxure Pergola was built, you would have started freaking out, gathering all that you had done outside, to save the event...plans ruined. Now, imagine the security of the event with a Struxure Pergola System in place! Same scenario, only when you see the dark clouds and hear the thunder, you can relax that your outdoor space is the touch of a button away from being covered. Once the storm has passed, the louvers are opened, and the party starts and everyone has a great evening!
Automated controls make it possible that a rain sensor closes your system when it senses rain falling, whether you are home or away, it does it automatically!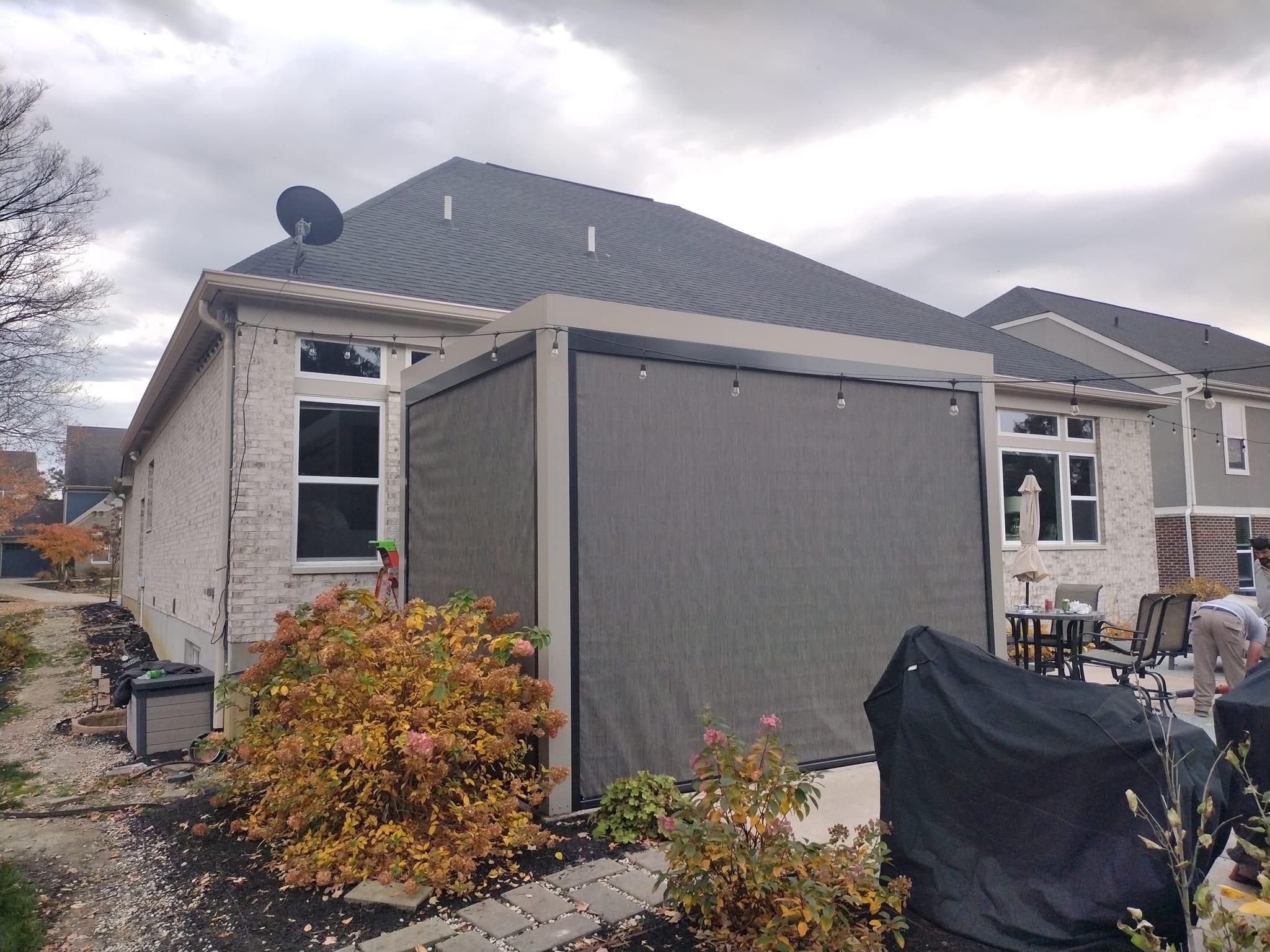 This photo is a Louisville Struxure Pergola with retractable screens integrated into the system. Providing shade and or privacy or even creating a 4 season room! Acrylic retractable screens make a nice touch for enclosing the space during inclement or cold weather, then, when the weather moderates, raise the screens and enjoy a full open space, covered and secure! so, as you can see, the system is completely convertible! Would you like to get more information about how the Louisville Struxure Pergola can transform you outdoor space?
Call today! 513-519-1800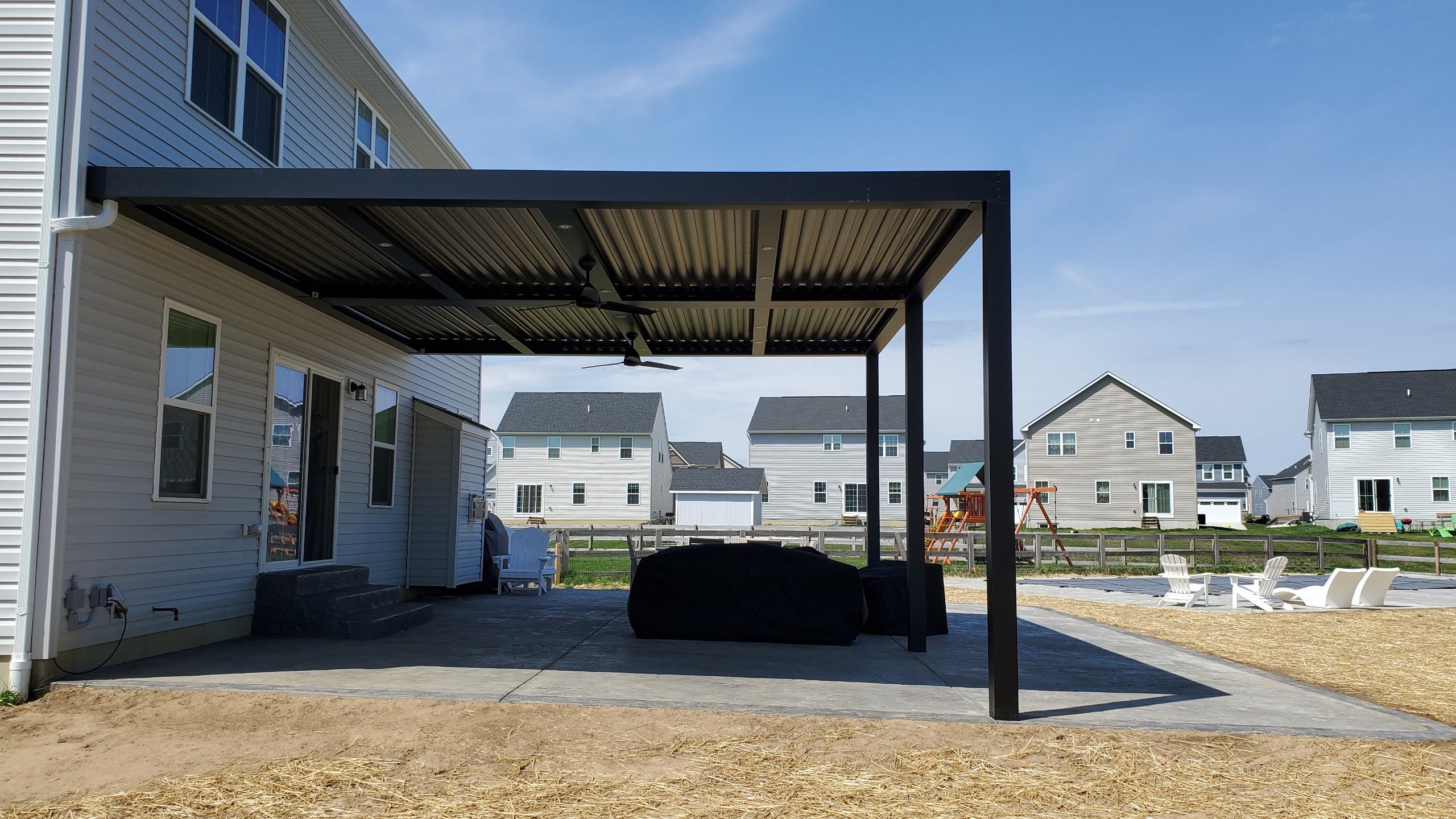 We are the source for Louisville Struxure Pergola Systems!
With A Louisville StruXure Pergola, you'll get choices including:
A wide variety of colors and finishes
A complement to any home's style and architecture structure
Protection from the rain, snow, heat, and wind
Shade and ventilation
The Louisville StruXure Pergola can be custom designed to meet any architectural style and is available in a range of neutral colors. Made from high quality commercial grade extruded aluminum components, the frames are extremely strong and durable. The same material used in aircraft fuselages, so you know it's strong. Originally designed South Florida, the system is hurricane proof! Up to 140 MPH wind rated!
In addition, the Louisville StruXure Pergola can be designed with optional add-ons and accessories to make it the most luxurious outdoor space possible. Lights, fans, heaters, retractable screens, evaporative coolers are all available! The best part is, you don't have to start with all the bells and whistles! You can add any accessory after the system is installed! Our automated screens, phone controlled app, rain and wind detection, fans, lights, infrared heaters, wall enclosures, and more can all be added days, weeks or even years after the initial installation to help your pocketbook as well as allowing you to determine if you really want or need the options that are available! 
Louisville Outdoor Living at its finest!
Call us today to schedule a design specialist to see how we can transform your patio, deck or business into a destination for relaxation! Cal today!
513-519-1800