Lexington Struxure Pergola Company!
Lexington Struxure Pergola Dealer! The "convertible" patio cover! the Struxure Outdoor Pergola system is state of the art. A louvered roof that can go from water tight, to full open in about 7 seconds! Think of it this way, you're having friends over and making dinner on your patio or deck. The weather is looking ominous, then it starts to drizzle. With the touch of a button, your Lexington Struxure Pergola system closes to seal the rain out and your dinner is still cooking and more importantly, the party is still on!
Your patio, deck or porch can now be an extension of your indoor space. The Struxure Outdoor Pergola system makes it possible to use the outdoor space you love, regardless of what the weather is doing! Obviously, lighting is the only exception to this thought. Let's face it, everyone enjoys being outside when the weather is perfect. How often is it perfect though? With a Lexington Struxure Pergola system, you can extend the use of the space that you love, while having the comfort and security of a roof over head. When the weather is nice, open the louvers and let the air flow and if it is too sunny or rainy or even if it's too cold, close the louvers and enjoy a water tight roof over your head!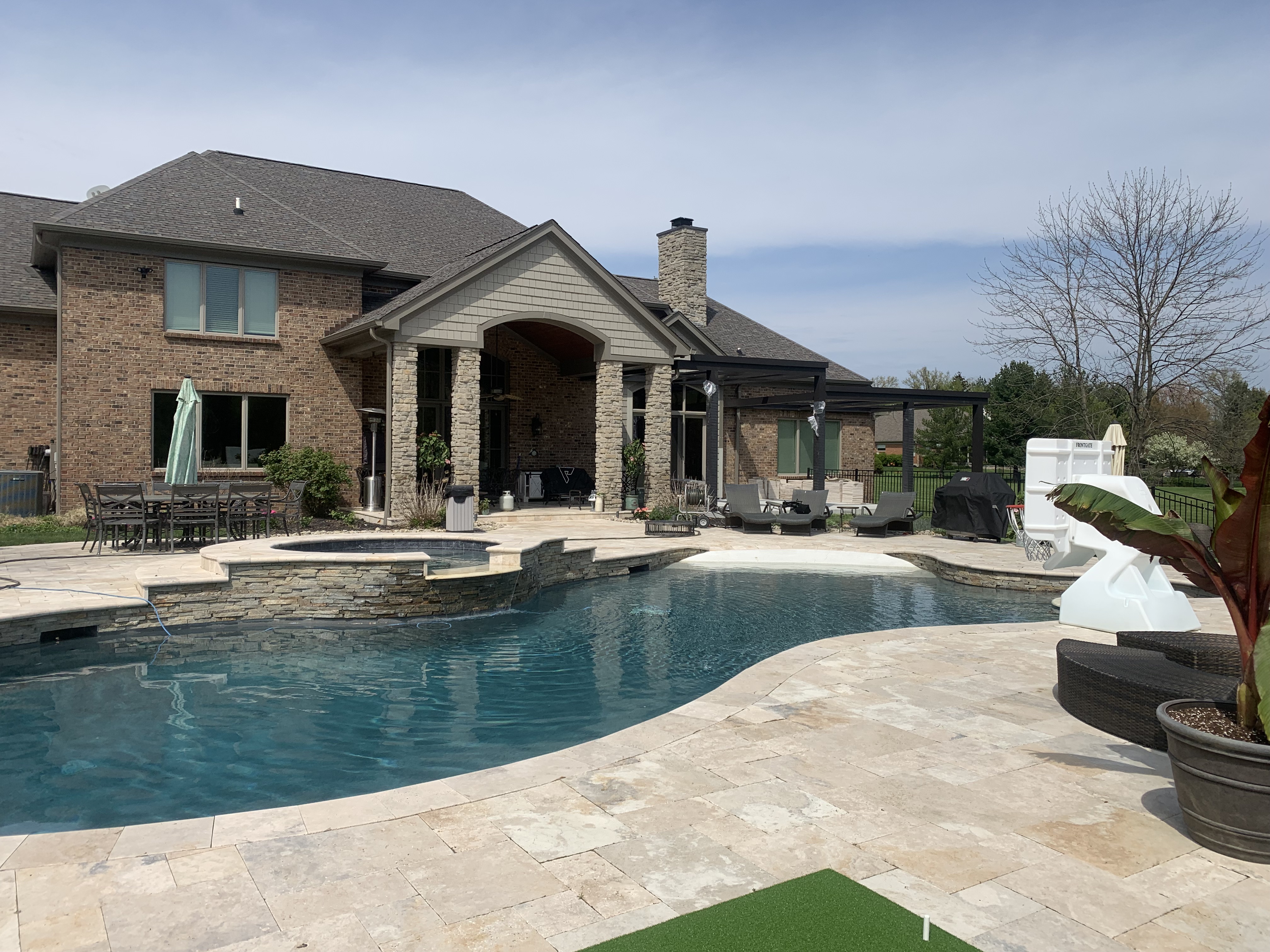 Create a backyard oasis, letting the sun shine when you want and closing it out when it becomes too hot! The Lexington Struxure Pergola is beautiful and durable! Made from extruded aluminum, it is powered coated with a non-fade, UV resistant polymer that will last a lifetime! The system includes motorized or manual operation and can have optional retractable patio screens if you want them! With the use of retractable screens, you can make the environment you're comfortable with. Keep the sun and bugs out, create privacy, or even make the space into a multi season room using clear acrylic screens! Accessories include built in ceiling fans, LED lights, heaters evaporative coolers for when the weather gets crazy hot and even built in TV's and sound systems! It really is an indoor room, brought outside and all the while, not only have you extended your living area, it is comfortable and beautiful too!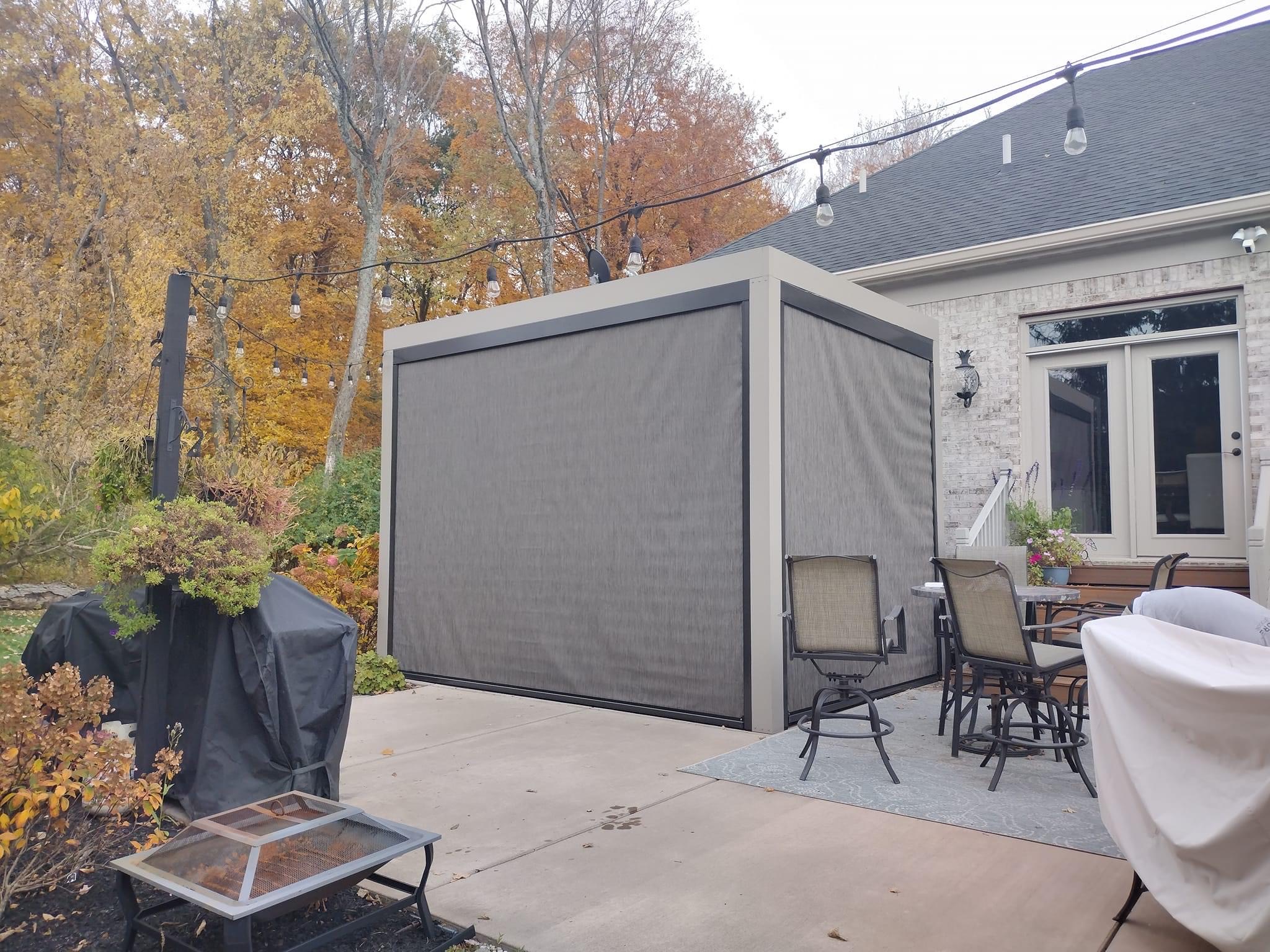 Not only do retractable patio screens proved a break from the sun, but they provide privacy as well. 
Lexington Struxure Pergola Systems Transform Ordinary Outdoor areas into Luxurious Living Spaces!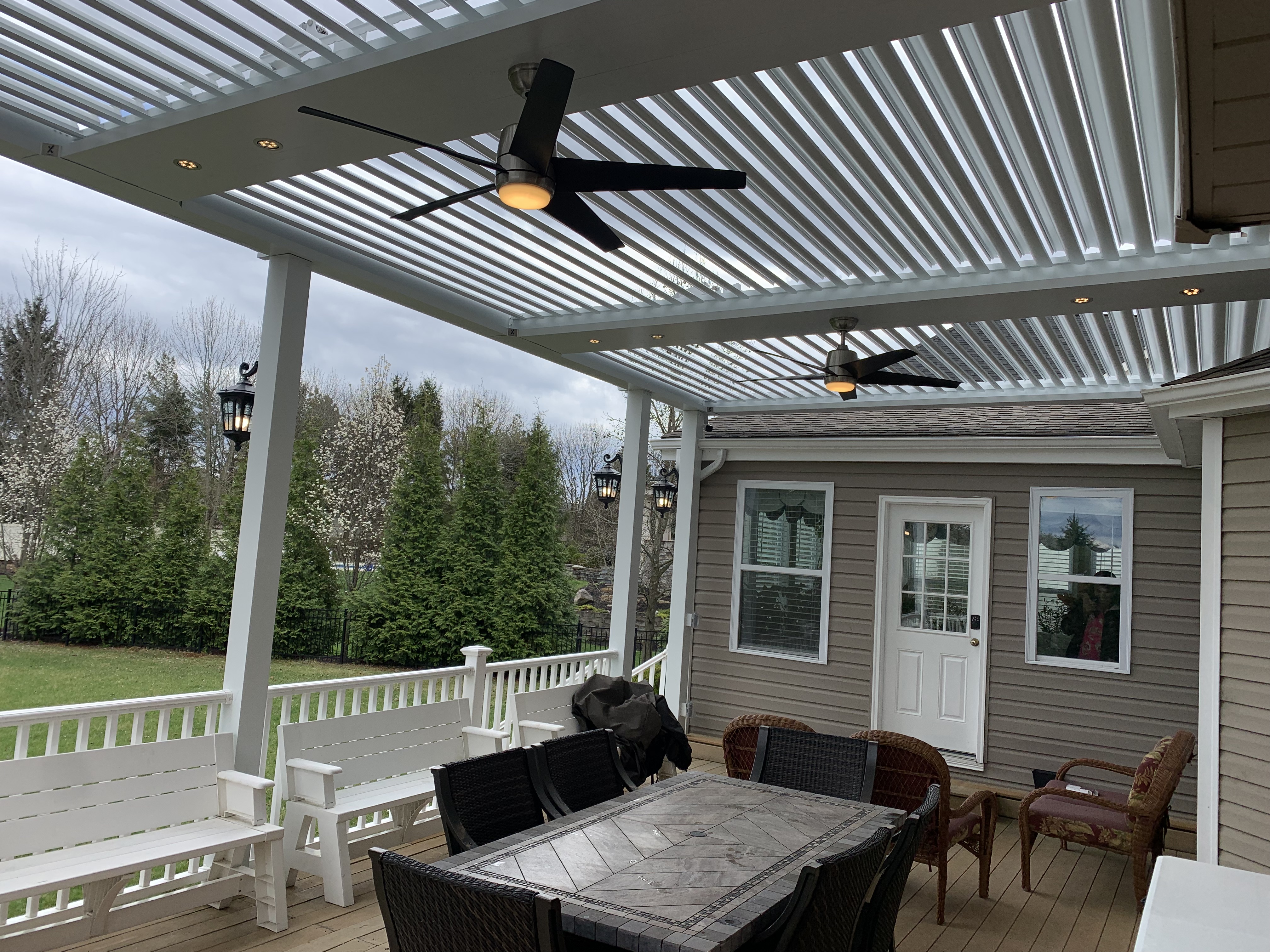 Maybe an outdoor kitchen is something you have always dreamed of but couldn't justify the expense only using it a few months of the year. Well now you can use an outdoor kitchen year round if it is built under a Lexington Struxure Pergola! 
Control Your Outdoor Environment Without Lifting A Finger
Lexington Struxure Pergola systems integrate into your patio or deck space. Hand railings, stairs and even architectural features such as bay windows and doors, can be accommodated without loosing their beauty and functionality.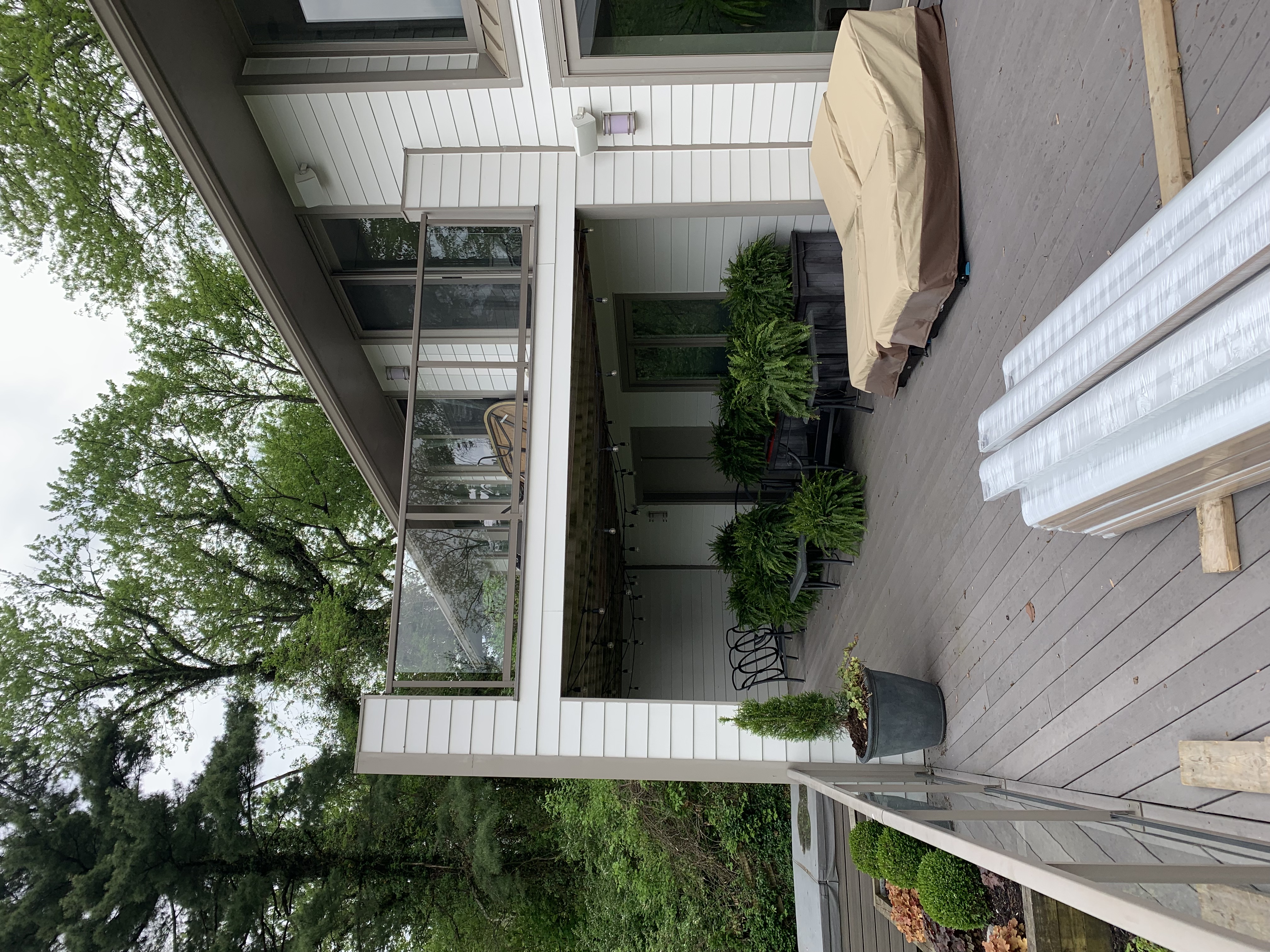 The before and after is so stunning, it enhances the beauty but more importantly, it extends the indoor space, outdoors!
Mounted above the existing gutter system on the roof, using special roof mount brackets, make this installation useable during even poor weather conditions! This system accomplished several added benefits. The first is the space under the second floor deck is now, for all intents and purposes, water tight. Because of the design and installation of the pergola above, it seals out the majority of the water effect to the bottom deck area. The exception is during heavy wind/rain events, water that falls on the floor of the upper space with still flow to the bottom area. The second unintentional benefit is the lower area can now have lights and ceiling fans installed without having the concern that they would be directly exposed to extremely wet conditions!
The space is completely convertible, letting light and sky in when you want and sealing it out when you don't, gives flexibility any time of the year!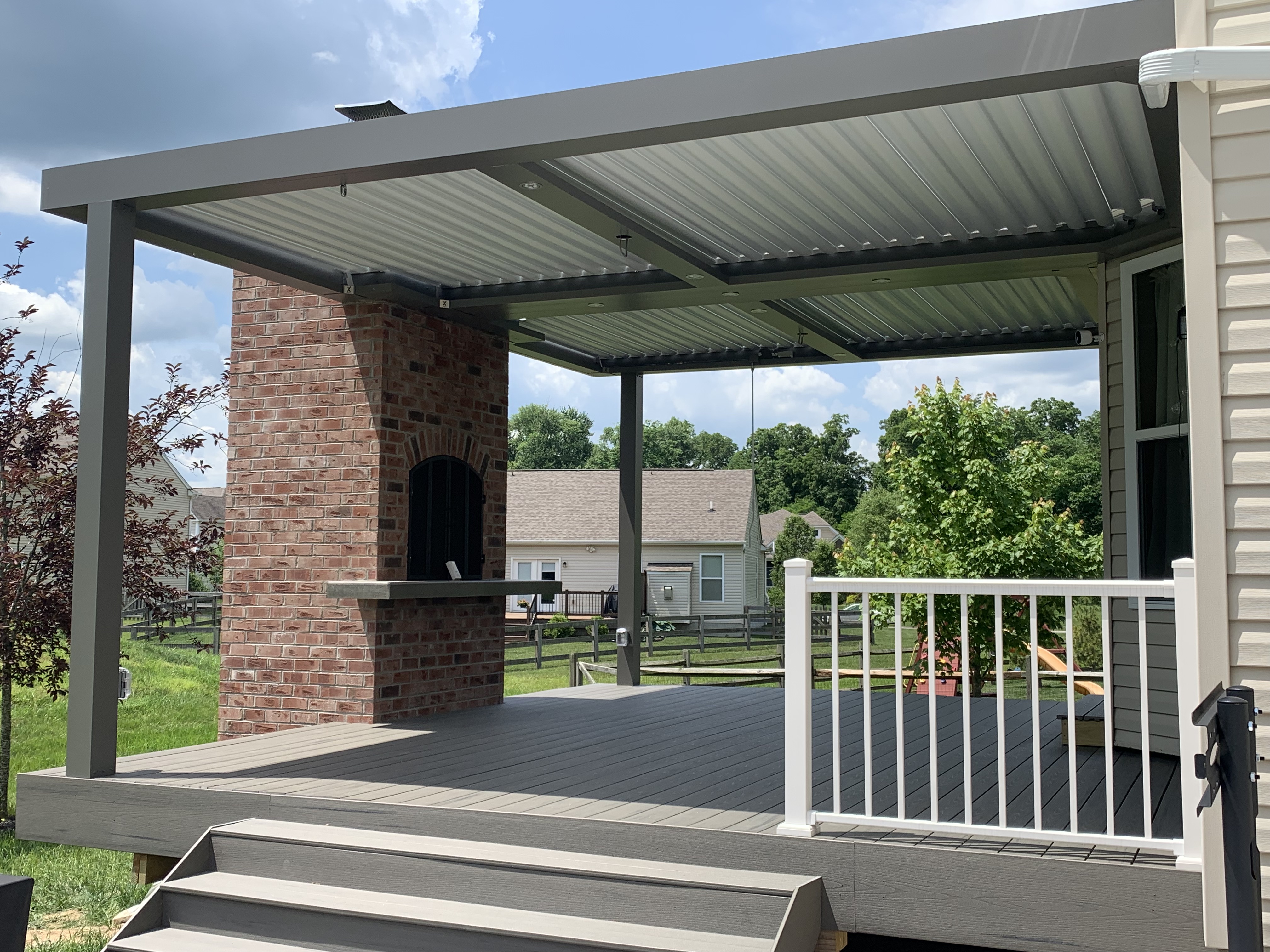 Outdoor living spaces get plenty of use during the perfect weather of the summer but aren't always usable during spring, fall, or winter. Extremely variable heat and cold aren't ideal for using our outdoor spaces. And during storms, patio furniture can be damaged and shorten its lifecycle. Direct sunlight to outdoor living furniture, will cause a shortened life span. Now, the Lexington Struxure Pergola can change the seasonal reality of uncertain weather conditions! Decks, patios, restaurants, country clubs, bars, distilleries and businesses are all spaces that can be transformed by our system!
You don't have to move to warmer climates to take control of your outdoor living space. You can control your outdoor living even in Kentucky. Call us to find out how we can help! Our design specialist's can answer the questions you have and lay out the perfect Outdoor Living Space for you and your family! 
Call us today to find out!
513-519-1800